Re-supply options in Sweden and Norway
The path starts at North Cape in Norway and is to end on the island of Sicily in southern Italy. Currently it is marked but for the Southern part in Italy. It is about 7.000 km long. A good first overview can be found on the website of the European Ramblers Associations or Traildino.
Recently the European walking associations have agreed on the following marker. It is not to replace local markers but to be used in addition.

I have walked so far the section from Lønsstua / Norway through Sweden, Denmark, Germany and Switzerland until reaching the Italian Border.
E1 runs in Norway from Grövelsjön along the Swedish border all the way to North Cape. As Norway is in parts rather narrow and some of the fjords reach far inlands a few times the trail crosses the border into Sweden and even through Finland but always going north. It is mostly marked with dark red dots or blazes or a capital T. From Holden until Skjelbredtunet there is no marking and no trail. Additionally for longer stretches it is no trail. You have to search for it from marking to marking. It seems the trail has to be trampled by us hikers over the years. This changes with the start of the Nordlandruta. Only one thing does not change. Wet and swampy meadows and bogs must be crossed through the water and not as it is common in Sweden on wooden planks.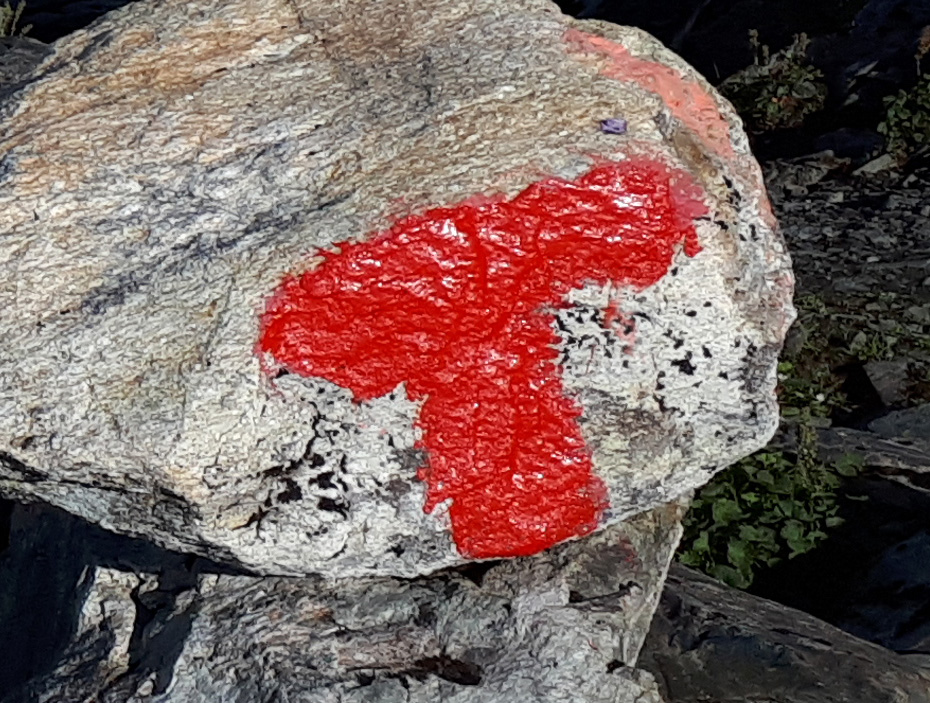 Along the trail the Norwegian Tourist Association (DNT) runs many cabins. These are all locked by an identical standard lock. These houses are well to partly luxuriously equipped. They all have bunks with blankets and pillows, completely equipped kitchen, living rooms, wood burning stoves with plenty of fire wood and toilets. Here wet equipment can dry out. Some of the huts have food for sale too.
Going North from Grövelsjön I decided to walk along Södre Kungsleden in Sweden until Storlien instead of hiking this section in Norway.
In Sweden it starts at Grövelsjön which is located near the Norwegian border and ends in Varberg, the ferry port for Denmark. The path is split into various Swedish walking trails. However it is marked continuously in red or orange. Additionally there are separate signs for each path. Starting at Varberg these are Hallandsleden, Bohusleden, Vildmarksleden, Knalleleden, Sjuhäradsleden, Redwägsleden, Västra Vätterleden, Bergslagsleden, Malingsbo - Kloten Rundan, Smeleden, Gagnefs Pasture Path, Siljansleden, Vasaloppsleden and Södra Kungsleden.

In Denmark the E1 starts at Grenaa as Molsruten. It continues from Århus to Silkeborg. Following a short connecting path it uses parts of the Naturstien Horsens - Silkeborg along a former railroad track. Another short connecting path and the main section along the Hærvejen up to Flensburg is reached.
There is a printable flyer covering the Molsruten with detailed map available on the Internet. And this is the path marking:

The same is available for the section from Århus to Silkeborg. Here the walker without additional text is used.

The path Naturstien Horsens - Silkeborg wis also known as Bryrup banestien. A printable flyer is available too. This is the marking:

The Hærvejen website provides very detailed printable path maps. This walker with the additional text Hærvejen is used as path marking: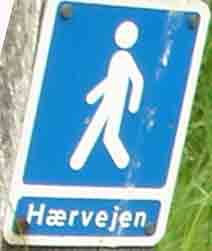 In Germany I have so far completed the section from Flensburg to Celle. From Flensburg until Ratzeburg it can be covered from youth hostel to youth hostel.
Until now the St. Andrews cross is the marker for European paths in Germany. However it is not uniformly applied. So far with very few exceptions it is well marked.

In Black Forest and onwards to Constance the trail is maintained by the hiking club Schwarzwaldverein. They have their own markings and don't care about what is done along the rest of the E1 in Germany. There is very little information that this is part of the European E1. Until Mountain Feldberg the trail is marked as Westweg with the following sign: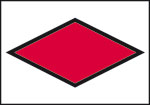 From Mountain Feldberg until Constance the trail is marked as "Querweg Freiburg - Lake Constance" with this sign: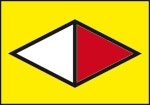 In Schleswig-Holstein there is an alternative named E1a. It is also known as Schlei-Eider-Elbe path. It starts in Schleswig and runs towards Heide and then across the Kiel Channel to Itzehoe and finally meeting the E9 at Vossloch. From here to Hamburg-Blankenese both paths are together. In Hamburg-Blankenese it ends and continues as E1. The E1a lacks at various parts a sufficient marking. Here a map is a must.
In Switzerland the E1 is well marked along it's total length. Depending on whether a stretch is considered to be alpine or not one of two possible markings is applied. The non alpine sections are marked with a yellow sign; the mountainous once are marked with white-red-white stripes. Additionally there are signs with mileage and in the mountains even with travel times.
My tour guide as well as map is the "Kompass Wanderführer 1057 Europäischer Fernwanderweg E1" in German language. So far I have not missed standard walking maps with a scale of 1:50.000. The maps included in the guide as well as the markings found along the path have been sufficient. Since Celle I am using the software Backcountry Navigator on my smart phone. I have downloaded the respective maps and the GPS-track.